Have you had issues with smelly grey plastic mailing bags?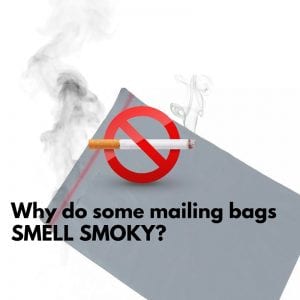 It's more common every day. Just reviewing the social media I have seen a rapid increase in Facebook posts, Twitter feed and Instagram posts highlighting this distressing problem.
Just to quote a few comments from social media and networking sites makes interesting reading.
"I have just ordered some grey plastic mailing bags from Ebay for my packaging, although they were super cheap, they smell of old fags! Most of the items I sell are clothing and I'd hate customers to think they were buying from a dirty seller!"
"Anyone having issues with smelly plastic mailing bags? I've had a complaint from my buyer, items of clothing inside the mailing bag is tainted with a smoky burnt smell, the items were returned to me and I had to refund the order."
"I recently have bought some grey mailing bags that really smelt funny, a sort of electrical burning smell, made the items stink."
"I bought CHEAP mail bags from a different supplier and the only way to describe the smelly bags is the smell of creosote."
Another comments on how they had purchased a purple shade mailing bag but received smoke scented smelly grey bags instead.
"I was mortified when a customer said the leather boots smelt of cigarette smoke, we are a none smoking family, these smelly mailing bags caused the need for a refund."
So why do some mailing bags smell?
Ok, so here's the science bit! Polythene is made from polymer pellets, melted to high temperature and blown; moulded in polythene film. This process doesn't  produce this smokey poignant smell everyone complains about. The problem comes with the CHEAP mailing bags, made with recycled materials which are not free from contaminants.
Many types of polythene products are reprocessed back into plastic pellets within a recycling process but corners are cut and the waste polythene contains ink chemical from old printed bags or film and the also glue chemical from tape and glue lines on old bags.
These contaminants make for an unappealing mixture and cause that smoky, cigarette acrid smell which transfers into the mailing bags and also into your products once bags have been packed.
How can I avoid these smelly mailing bags?
Packaging Products Online  DO NOT use contaminated waste, and we are very proud of our UK manufactured mailing bags.
We supply two types of GREY Mailing Bags,  our Premium grey bags are made from pure virgin grade polymer and our MADE AGAIN range are top quality recycled mailing bags made here in the UK from only the best rechipped and recycled polymer from clean, sorted polythene scrap products from our own plants.
We strive to provide a premium quality grey mail bag to e-commerce, eBay and amazon sellers and many businesses.

What makes our bags better?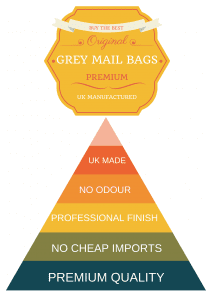 UK MADE
NO ODOUR
PROFESSIONAL FINISH
NO CHEP IMPORTS
PREMIUM QUALITY
Simply the quality, your will have less complaints and happy customers! 
For more information about our fantastic grey mailing bags, check out our website or any of the links above. You can also call us on 01933 461999 or email me personally wendy@packagingproductsonline.co.uk