Printed Parcel Labels
Printed parcel labels come in all shapes and sizes, labelling your packaging and pallets for a plethora of reason. Protecting your parcels in transit is very important to businesses, shipping or warning labels are an ideal product to highlight important instructions about your shipment.
Parcel Labels
The most commonly used parcel labels refer to fragile and handling with care with a variety of text and imagery displaying glassware. Other handling instructions include: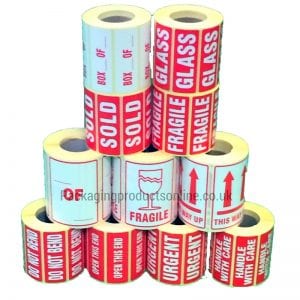 This way up
Do not stack
Do not open with knife
Do not crush
Do not split
_ of _ (for multiple consignment orders)
Documents enclosed
Urgent
Open this end
Do not bend
Heavy Packaging & Pallet Labels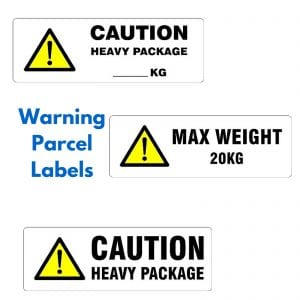 Manual handling causes over a third of all workplace injuries. These include work-related musculoskeletal disorders (MSDs) such as pain and injuries to arms, legs and joints, and repetitive strain injuries.
Manual handling covers a wide variety of activities including lifting, lowering, pushing, pulling and carrying. If any of these tasks are not carried out appropriately there is a risk of injury to your staff or customers.
If it is "reasonably practicable" to give precise information you should do so. Giving this information will help to prevent injury, it doesn't require you to quote weights to anything more than the nearest kilogram or two.  This also applies to indicating  of the heaviest side, unless the load is sufficiently out of balance to take handlers by surprise.
The purpose of providing information about weights is to quickly and reliably warn handlers when a load is heavy. So you need to put the information where it will be seen and is easy to understand.
Marking the weight on the load itself can be a good way to give precise information.
Caution Heavy Packaging
Caution heavy _KG
Heavy Goods
Max Weight
2 Person Lift
Quality Control Labels
Quality control printed parcel labels make the process of tracking your products or stock during the production process much easier. The bright coloured labels provide a "traffic light system" to help you keep track during your inspection processes.
QC pass
QC reject
QC hold
Inspected *(with date and sign)
Calibrated (with date, sign and date & next due)
Stock Control Labels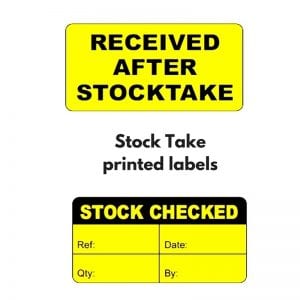 It is so important that businesses keeping track of stock, it can be  something that needs to be considered on a daily basis. Stock printed labels make the process easier by labelling items clearly, so everyone can be keeping track of stock in, counted or received during stock counts.
Stock Checked (with ref. date, qty & by)
Received after stock take counted
Retail Promotion Labels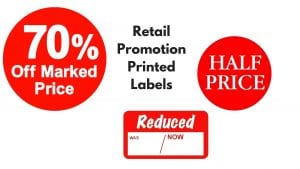 Promotional labels will ensure your promotion stands out from other items.  Promotional printed labels maximise your shelf presence and highlight any special offers with bright attention grabbing colours and bold large text. Available in a variety of price labels, at point of sale labels and printed promotion labels.
Made from high-quality semi-glossy paper, labels come supplied of reels of 500 labels with an easily removable adhesive, so not to spoil your products once removed.
SOLD
% OFF (variety of amounts)
Half Price
Reduced
SaleClearance
Special offer
Was  / Now
Where to purchase printed parcel labels?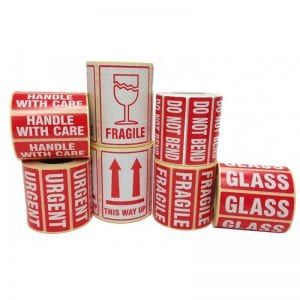 Packaging Products Online supply a wide range of printed parcel labels, supplying e-commerce, retail and industry businesses across the UK.  Competitively priced and  shipping same day service, purchase your printed parcel labels along with a large range of all your packaging needs.
Alternatively, you can contact me personally on 01933 461999 or email me at wendy@packagingproductsonline.co.uk