Polka Dot Mailing Bags
Packaging Products Online are very excited about our brand new colours in the printed mailing bag range, Divinely Different. Today we are launching our new colours for Spring 2016 in the Polka Dot Mailing Bags range.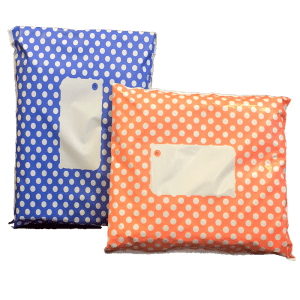 A very pretty CORAL tone and a smart ROYAL BLUE which will be available in all sizes.
As part of the STM Packaging Group we manufacture our own range of printed mail bags in a variety of styles, colours and sizes.
 Such a dramatic statement
With vintage, shabby chic and fashionable modern designs your packages and parcels will stand out from your competitors and  you will be also adding a special touch for you customer.
Our Polka Dot Mailing Bags have received a huge response from customers, we know that you all love using them, packing with them and of course receiving them on the doormat or when the postman knocks.
It was time to give you lovely Customers new colours to choose from!
Divinely Different Polka Dot Mailing Bags
Our Polka Dot mailing bags allow you to add a unique designer style without the bespoke costs.

Available in 6 colours: Blue, Green, Pink, Purple, Silver and Gold, Red, Coral and Royal Blue.
Includes a permanent peel and seal adhesive strip
Available in 4 sizes: 124mm x 160mm, 162mm x 230mm, 250mm x 350mm and 330mm x 440mm
Other styles in the Divinely Different Range
We hope you are pleased with our new colours added to the range. Please don't forget we also have the FLORAL, HEARTS, CANDY STRIPE and SNOWFLAKES too!
All of our bags include a permanent tamper proof peel and seal strip making these perfect for retail, mail order and e-commerce businesses.  All bags in our Divinely Different range are in line with our environmental policy and are 100% recyclable.
With vintage, shabby chic and fashionable modern designs  you  stand out from your competitors whilst giving a great first impression to all of your customers. Manufactured in our Norwich plant, we use 50-micron polythene to ensure a strong durable bag.
For further information about our Divinely Different range please visit us .