Valentine's day gift packaging
Valentine's Day has become a huge retail success story.  British spending on valentine's Day was £595 million in 2015. Whether its cards, flowers, chocolates or the more expensive sparkly type of gift be prepared and order your Valentine's Day packaging early.
Printed Mailing Mailings – Heart design perfect for Valentine's Day
Our new Heart design printed mailing bags are now available in 3 sizes. these mail bags are co-ex white polythene with a black lining to ensure full opacity and privacy.
New and unique, part of the Divinely Different range these printed patterned mailing bags / postage bags are pre-printed with a Hearts design, specifically created to stand out for Valentines day or for a special delivery! Available in various sizes to meet your needs.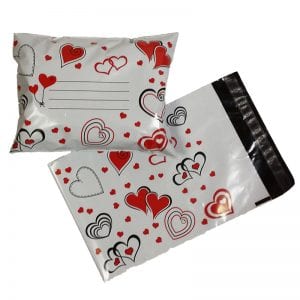 Please ensure that when using the self-seal, it is stuck to the white area of the bag and not to the printed area for better sealing!
| Size References | Millimetres | Inches |
| --- | --- | --- |
| Small | 162mm x 230mm | 6″ x 9″ |
| Medium | 250mm x 350mm | 10″ x 14″ |
| Large | 330mm x 440mm | 13″ x 17″ |
Other alternatives you many like for Valentine's Day Red or Pink mailing bags from the spectrum range…  

Gift Bags

We have a fantastic range of gift bags from glossy red and fuschia pink to pastel heart and red and white designs.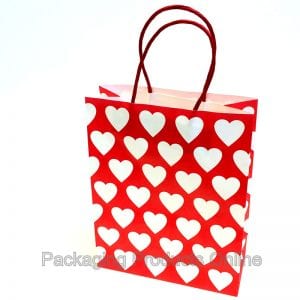 Our range of paper gift bags are made in high grade paper grade.  They are perfect for a variety of uses such as birthday present bags, small gift bags or Christmas present bags, and are useful carrier bags in accessories shops, grocery stores, jewellery shops, and craft shops.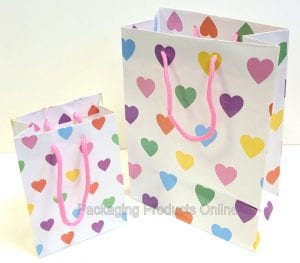 If you are looking for more wholesale quantities then give us call or get in contact through our contact form. Available in two sizes; Small: (H15 X W11.5 X D6CM) Medium: (H23 X W18 X D10CM)
Gift Boxes
ur gift boxes are a perfect way to make your products even more special. Our paper-covered, rigid gift boxes, with bases and lids are available in a wide range of colours, patterns and sizes.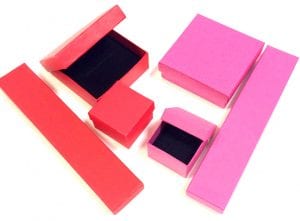 This style of gift box offers much greater protection for your gifts than pillow packs or fold-flat options. These are ideal for presents and gifts of jewellery and other small items for all occasions.
Organza Bags
Our Organza Gift Bags are available in an attractive range of colours and sizes but we think you will love the cerise pink and red for valentine's day.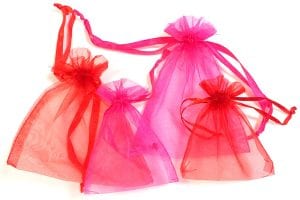 A perfect complement to our Gift Box range and our coloured and patterned tissue paper products – everything you need for gift packaging.