Pallet wrap or more commonly known as stretch film or cling film is one of the most popular products for wrapping and protecting pallets on the market today. The following lists the top 10 main benefits of pallet wrap.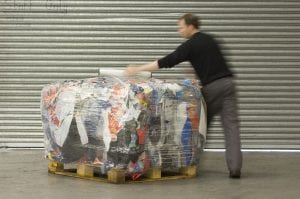 Pallet wrap delivers superior protection from dust moisture & dirt.
Stretch film pallets are more secure which minimises damage in transit.
Stretch wrap is more cost effective than alternatives such as corrugated, shrink film and strapping.
Pallet wrappers use less energy and typically costs less compared to shrink wrap and strapping systems.
Stretch wrap is more efficient compared to shrink wrap and can increase worker productivity & operation efficiency.
Stretch film is fully recyclable – Read more about our view on recycling here.
Pallet wrap is available in many varieties, including clear pallet wrap & black pallet wrap
Black pallet wrap is opaque can increase the security of pallets.
Clear stretch wrap can allow barcodes of goods to be scanned easily.
Stretch wrapped pallets can improve inventory control
Packaging Products Online is a leading UK business supplier of clear and coloured (black) pallet wrap, stretch wrap, stretch film & cling film. We offer a wide range of varieties at very competitive rates.
Have a look at our wide range here.