Essential information about the busiest day of the year.
Many years ago people waited until the Boxing Day sales to hunt out a bargain,  but it would seem this has all changed with the every growing popularity for retailers to offer massive savings on Black Friday. This has become the biggest shopping day of the year, retailers in store and online e-commerce sites slash prices across much of their stock lines to kick-start the present buying seasonal.
The tradition originally stemmed for the US and starts the day after the American Thanksgiving Day being the 4th Thursday in November.
On Black Friday Last year, British consumers spent £800m on online purchases alone. That calculates at £9,260 every second. This year online sales over the 24 hours are expected to surpass £1 billion for the first time in UK internet sales history.
This year Black Friday will be on 27th November 2015 and most sales will begin online at midnight or 8.00 am.  least year Amazon offered flash deals every 10 minutes for the week running up to Black Friday. Amazon received orders for over 5 million items last year, they actually sold 64 items per second!
Argos had 600,000 visits to their website within 1 hour of launching the Black Friday deals, John Lewis has promised to honour its Never Knowingly Undersold pledge and match any competitors' prices.
UK consumers spent £21.6bn online over the 2014 Christmas period (5 November to 27 December) a rise of 14% over 2013 and Black Friday had a significant impact on Christmas sales.
The massive amount of online orders will all require two things; packaging and a delivery service.  During its busiest period one delivery lorry left one of Amazon's warehouses every 1min 33secs during the week running up to Black Friday. They also employed more than 13,000 temporary staff across the UK for the seasonal warehousing positions.
Are YOU ready?
As an online seller as you participating in the Black Friday madness?   Have you ordered you cardboard boxes and mailing bags in preparation for the busiest day of the year?  We'd love to hear your Black Friday stories relating to your business and how you plan the logistics of picking, packing and shipping!
To get into the spirit of the Black Friday day we are having a BLACK FLASH SALE in respect of our Black Mailing Bags.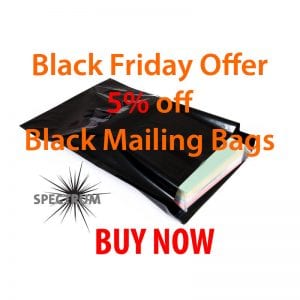 Packaging Products Online hope you have a successful sales day…