At Packaging Products Online, we thought we would brighten up January and add a new colour to our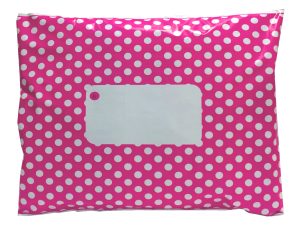 divinely different polka dot range.
Please give a warm welcome to…… Polka Dot Hot Pink!
If you have previously purchased our divinely different Neonlight Pink star mailing bags, you may already recognise the colour. However, we loved the colour so much that we couldn't pass up the opportunity to add it to the polka dot range.
The polka dot range has gone from strength to strength since its creation a couple of years ago. At the beginning we only started with 3 colours (pink, green & blue) and now with the addition of Hot Pink we have grown to a range of 10 popular colours.
Still to this day, we are the only UK manufacture of our divinely different polka dot mailing bags and you can expect the following while using them:
A strong, permanent 'peel and seal' adhesive flap.
Super tough side seams, manufactured using 50micron co-extruded film.
Opaque and weatherproof so the contents stay safe and secure.
Eye-catching design in vibrant colours; Limelight Green, Neon-light Pink and Starlight Blue.
A blank address area suitable for pen or labels.
Available to buy now from our Packaging Products Online shop
Our Hot Pink polka dot mailing bags are available in the most popular mailing bag sizes:
162mm x 230mm + 40mm lip for you C5 sized items (coming soon)
250mm x 350mm + 40mm lip for your C4 or slightly oversized C4 items (coming soon)
330mm x 440mm + 40mm lip for C3 sizes items.
We have received an amazing amount of feedback from our customers who use polka dot mailing bags and we would love to hear from you too. Feel free to leave a comment below or email us at info@packagingproductsonline.co.uk